It's easy to shop for canvas wraps, framed prints and unframed prints.  Click any gallery below.  The most popular galleries are the summer/wildflower gallery and the fall gallery.  Once you are in a gallery, click an image to enlarge it and then click the shopping cart icon to see pricing and size options.   If you are using your cell phone, click the "i" information icon for the name of the image and other information. 
You have the option to have your purchase shipped or bypass the shipping expense and pick it up in Ridgway, Montrose or Telluride region.  The secure online shopping cart accepts credit cards or PayPal.   Typically, I ship a print within one week. 
The shopping cart on this website has a limited number of size options but it is possible to order custom sizes including large canvas wraps.  Below are examples of large canvas wraps and wood floater frames made in my studio.  Email ourayimage@gmail.com or call me at 970-615-0546 for information about customs sizes and floater frames.   
My gallery in Ridgway will open in the spring.  In the meantime, I have show during the month of February at the Montrose Center for the Arts.  The show will feature a number of new pieces.  The gallery is open from Tuesday to Saturday from 10 a.m. to 4 p.m.  The opening reception is Friday, Feb. 3, from 4:30 p.m. to 6:30 p.m. If you live near Montrose, I hope you can attend the opening reception.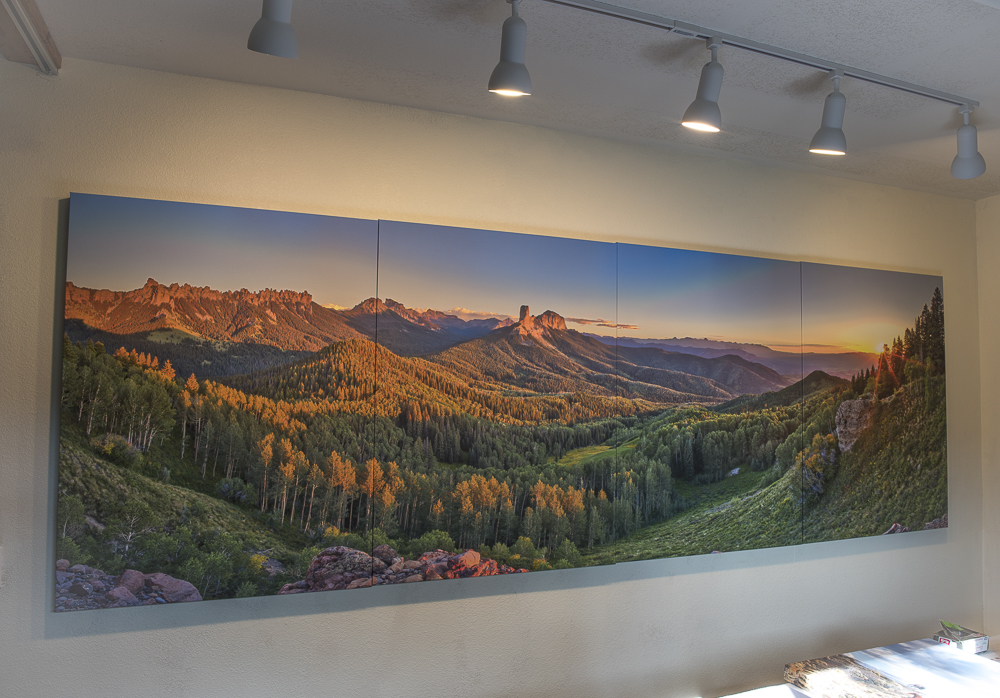 65"x40" canvas wrap, espresso frame
45"x30" canvas wrap with espresso custom floater frame 
70"x28" canvas wrap with custom floater frame with teak stain
Poplar wood floater frame with clear topcoat